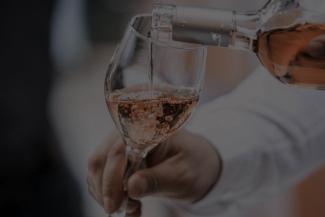 Moments that Speak Volumes
The balance of flavour and taste, design and breath-taking natural beauty defines the Namah Restaurant experience. Elegant gastronomic elements praising the vibrant culture of the Mediterranean and gorgeous panoramas fuse in a heavenly synthesis that fascinates every fibre of your being. Embark on the Namah Restaurant journey, a timeless union of the things we love the most, and revel in the inimitable vibes of Mykonos.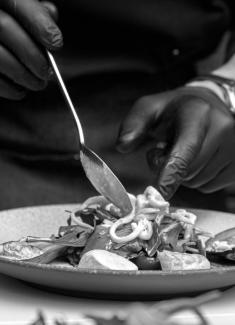 Elevated World Cuisine with a Twist
When designing the Namah Restaurant menu, we aimed to create a unique gastronomic experience, one that encapsulates the vibrant character of our homeland and pays homage to international and Mediterranean Cuisine, with flavours of the Aegean, France and Italy. Taking into respectful consideration contemporary dietary habits and modern culinary techniques, and adding Asian elements to classic recipes and tastes, we have added a twist to our updated lunch and dinner menu.
Our inspiration blends high-quality ingredients from small producers from Mykonos, Greece and the world, and our long-running knowledge and expertise, acquired through extensive gastronomic journeys, promise to bring you to our personal culinary Ithaka.
Welcome aboard the luscious adventure of Namah Restaurant.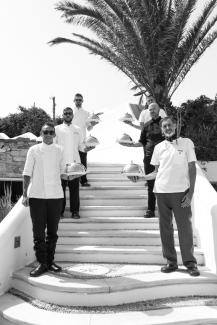 Chris Pedes, Executive Chef at Kivotos Namah Dinner Restaurant

Chris is the Executive Chef for Nammah Dinner Restaurant and the Nero Nero Private Dinning Experience where he focus on Greek and Ethnic Creative Cuisine with local and International ingredients.

Chris Pedes loves creativity and Ethnic cooking.

He and his team collect the ingredients for your dishes, one by one from the hotel's vegetable garden, where you are about to try fresh and unique dishes.

Do not hesitate to invite him to your table so that he himself will present you the dish that you will choose, serving you personally.

Αristotle Regavellas, Executive Chef at Kivotos Namah Lunch Restaurant

Αristotle is the Executive Chef for Nammah Lunch Restaurant and a la carte Breakfast where he focus more on Greek Mediterranean Creative Cuisine and local ingredients.

Aristotellis, after 5 years of collaboration with Kivotos, knows and focuses on the guests of Kivotos and their needs with unique creations and flavors from Greece.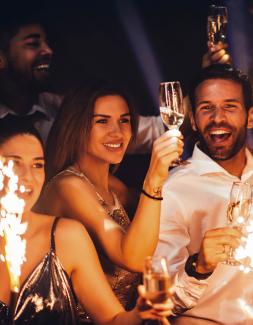 Any day worth celebrating is a day worth spending at Namah Restaurant, where the bewildering beauty of Mykonos meets inspired gastronomy and attentive hospitality. Let us make your special day unforgettable with a bespoke affair of sophisticated elegance and delectable journeys to the world of Greek, French and Italian cuisine that will enrapture your guests' palates and hearts alike.
Our Namah Restaurant team will combine everything you have ever dreamed of for your special day, and present a harmonious affair of magnificent tastes, sophisticated decor and flawless service, immersed in the postcard-perfect beauty of Ornos Bay and Kivotos Mykonos. Together, we will bring your vision to life and celebrate your every special occasion in inimitable style, at Namah Restaurant.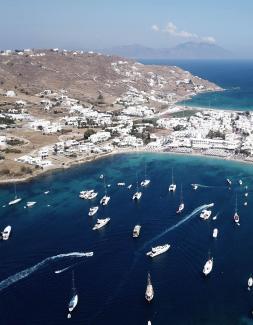 Heaven on earth, Ornos on Mykonos.
The enchanting cove of Ornos has always provided a safe harbour from the sweeping winds of the Aegean, as for centuries, detached from the forces of nature, it served as a haven where peace and calmness resided. Today, its tranquil shores welcome visitors from around the world to where natural beauty and cosmopolitan affluence balance in harmony over the crystalline waters and the golden sand.
Lavish yachts reach the shores of Ornos, where the sensational delights of Namah Restaurant and Kivotos Hotel await, and those who know how to enjoy life to the fullest seek gastronomic pleasures amidst breath-taking panoramas and sophisticated design. If heaven is a place on earth, it would surely be Ornos, and it would taste just like Namah Restaurant!